What's it like to live, work, and play every day as a permaculturist? See our design updates and learn to make some cob!


This one-day Open House will be on June 8th, 10am-4:00pm.
In the morning, we will take a walking tour of town and show you some of the neighborhood's examples of sustainable living–our wind turbine, rain gardens, and more. In the afternoon, we will feature an introductory tour highlighting some of our recent work on the CSC landscape and including a cob-making tutorial. And . . . stay overnight to take Midwest Permaculture's Rocket Stove workshop on June 9th!
Schedule:
10:00 am
:
INTRODUCTION
11:00 am
:
WALKING TOUR OF THE TOWN
12:30 pm
:
LUNCH
1:30 pm- 4:00pm: PERAMCULTURE DESIGN TOUR AND COB INTRO
WITH MARY-KATE CARTER & HAYDEN WILSON
(meet at the Stelle community center)

We appreciate your contributions of $10 for the morning tour and lunch and $15 for the afternoon workshop. If you are coming for just the afternoon workshop, please arrive before the workshop begins.
Space can be limited, so please
call or email
to reserve a spot. For more information on how to sign up, please
click here
.
————-
Afternoon Workshop:
What's it like to live, work, and play every day as a Permaculturist?
Our introductory tour and cob building intro will give you a glimpse into this world.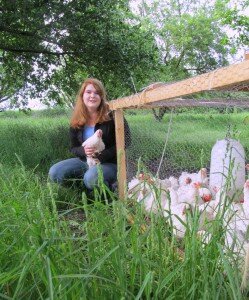 Mary-Kate Carter is a current intern who has been working to implement features of the permaculture design on the CSC property. She will share our progress in the garden, pond, and chicken production, as well as her perspective in the continuing journey of building permaculture systems in the Midwest. Mary-Kate is using her design skills from Austin Permaculture Guild (as well as Midwest Permaculture) in creating everything from chicken coops to food forests.
Midwest Permaculture's resident intern Hayden Wilson will join us for the afternoon; Hayden has worked extensively in permaculture design and holds a Permaculture Teaching Certificate (more about Hayden can be found here).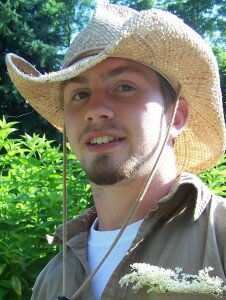 Get an insider's perspective on our internship and survey the giant leaps we've made in making our design a reality.
We will tour CSC's 8.7-acre landscape that adjoins Stelle, focusing on our new developments, including our newly-planted linear food forest, water harvesting via a solar pump, new mobile chicken tractor, and more! We will also have a hands-on cob-making tutorial to show how we made our earthen oven from the ground beneath our feet!
Stay updated on what our interns are designing & building via our blog.