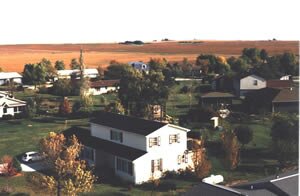 If Center for Sustainable Community creates a context for exploring holistic, sustainable living, then the community of Stelle, Illinois created the context for the birth of CSC.
Early Days – 1972
Stelle began in 1973 as an intentional and private community comprised of individuals who embraced such principles as striving for excellence, fostering personal responsibility, being self-reliant, and nurturing a love for learning, for life and for others. As is often the case with intentional communities, disagreements in direction and priorities led to the departure of many early residents. In the early 1980's the community opened its doors to the public, thus ending its private status. Before opening, the residents created a home-owners association and for over 30 years now the community has operated as any other democratic community with elected officials, individual home ownership and shared utility maintenance.
The Community of Stelle Today
Transition to a homeowners association did not stifle the values and ideals residing within the hearts and minds of those who remained. From this social foundation, an atmosphere developed that supports application of sustainable practices to many areas of living, ranging from renewable energy, to home building, to social interaction, to food production.
While we do not characterize the community as being sustainable (far from it really) Stelle does provide a climate which encourages residents to consider the quality of life they would like to create as well as their individual and collective impact on the earth.
Today, our population has stabilized at approximately 100+ residents (all ages) residing in 45 homes, some of which benefit from either passive solar design or active photo voltaic hardware, or both. Stelle has its own solar powered telephone mutual (cooperative) providing telephone, cable TV, and wireless internet service. The community water plant receives a portion of its electricity from a windmill and a number of the households obtain a fair percentage of their food from either their own gardens or from the community garden (also a cooperative venture).
The Carr family, long-time Stelle residents, has converted the farmland surrounding the community to the south and west into an organic, pasture-fed livestock farm called Mint Creek Farm.
Midwest Permaculture grew out of Bill and Becky Wilson's desire to make permaculture knowledge and trainings more readily available in the central part of the US. Also long-time Stelle residents, their small educational business grew out of their interest and experience of living in Stelle. Now they offer regular trainings here.
It is out of this atmosphere that CSC also emerged over 10 years ago, and now provides opportunities for others to experience this social experiment. While every experiment in living has its challenges, we in CSC have found the Stelle experience to be growth engendering and supportive of our desire to discover a more fulfilling life. This is the foundation of CSC.
Click here for the Stelle Community website to learn more about community life in Stelle.