"…we are slowly educating ourselves and changing the way we live while we simultaneously share our inspirations and progress with others."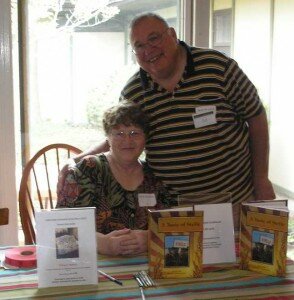 Peg and Ed Homeier
When the time came for Peg and Ed to retire, they purchased property elsewhere in the country to build a new home. Then, they heard about Stelle. They came for visits, got to know the people and mission of this community, and decided to move here instead. They have now lived here for 7 years, and have contributed so much to this community! MORE
They are deeply involved here in Stelle. They each hold board positions within the community organizations, and participate in the Monday Night Dinner Co-op. Peg hosts a regular community game night called Second Saturday and is the community quilting expert. The two of them also built a solar-powered garage to house a community canning kitchen within!
Ed Homeier (CSC Member)
CSC Board of Directors – President
CSC Membership Coordinator
Stelle Community Water Plant Committee
Retired Chemist – PhD in Chemistry
Peg Homeier (CSC Member)
CSC Board of Directors – Secretary
SCA Board of Directors – Secretary
Retired Middle School Teacher – MA in Teaching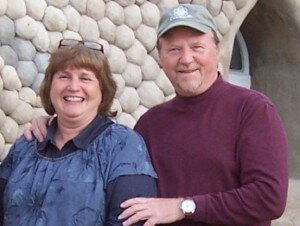 Bill and Becky Wilson
Bill and Becky Wilson are two of the original eight co-founders of the Center for Sustainable Community. Three decades ago, when Stelle began, lifelong learning projects were common place and just part of being a resident of Stelle.They have continued that work and have become educators in the community themselves. MORE
Bill and Becky Wilson started Midwest Permaculture almost a decade ago and continue to invest their heart and soul into the community.
Becky Wilson (CSC Member)
CSC Board of Directors
Co-founder of Midwest Permaculture
Community Manager for 18 years
Stelle Community Association President for 6 years
Jin Shin Jyutsu practitioner
Homeschool Teacher for their children
Bill Wilson (CSC Member)
Co-Founder of Midwest Permaculture
Past Executive Director of CSC
Past Member of CSC Board of Directors
Practitioner of "The Four Agreements" and "As a Man Thinketh"
Watch an interview with Bill here on Peak Moment Television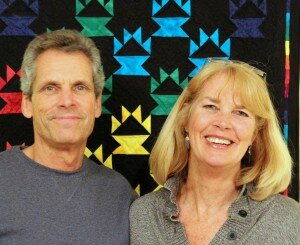 Ken and Sue Fisher
Ken and Sue are two of the original 8 co-founders of CSC. They have lived in Stelle for over 30 years, and have contintued to contribute freely to the community and our mission. MORE
Ken is a General Contractor and works on jobs in the Chicagoland area. He's been a carpenter/contractor for about 40 years and thoroughly enjoys what he does. In his free time he is involved in common property landscaping, where he and others maintain the Community Center and other community areas.
Sue has been a realtor for over 20 years and also loves what she does, works hard at it, and has fun with her work. She and Ken own and rent a few properties in Stelle, and as a community center co-manager, Sue helps to ensure that any Community Center issues are handled and the community building maintained.
Additionally, they own an outdoor pool and pool-house, with indoor hot tub and steam shower, which they openly share with the community!
Ken Fisher (CSC Member)
General Contractor
Stelle Community Association Vice President and Past President
Sue Fisher (CSC Member)
Community Center Co-Manager
Past President Stelle Community Association
Stelle Telephone Mutual Board of Directors
Coldwell Banker Realtor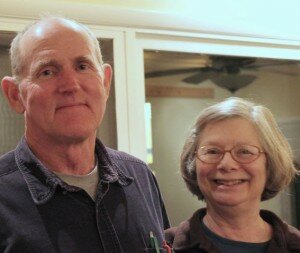 Bev and Wayne Malchow
The Malchows moved to Stelle from Tinley Park, IL in 2009 after they visited Stelle for a CSC Open House and found the perfect place for their retirement and green dream home. Wayne commuted every day in order to build the house from the ground up, and with the help of Bev's carpenter brother, he finished their beautiful home in 2010. MORE
Their home was constructed from AAC-concrete block and made even more green with radiant floor heating, a thermal mass rocket stove and an overall passive solar design with plenty of south facing windows. Wayne and Bev have taken on many other projects including building a straw-bale garage, keeping hens, beekeeping, and the ongoing planting of a food forest.
Wayne and Bev have been interested in fermentation and the Weston A. Price foundation for years, and make their own kombucha and sauerkraut.
You can usually find them attending our Monday night dinner co-op and other community events, or in the community garden where they share their contagious enthusiasm for sustainable living.
Bev Malchow (CSC Member)
CSC – Volunteer Treasurer
Retired Schoolteacher and Childrens Librarian
Wayne Malchow (CSC Associate)
CSC Technical Support Provider
Retired U.S. Marine
Stelle's Wastewater Management Tech