Guided Tour Identifying Common Weeds and Indicating Their Medicinal Values
Sunday July 11, 2010 1P.M. – 3P.M.
Offered by Carroll English
Location: CSC, Stelle, IL
Carroll enjoys sharing her acquaintance with medicinal/food herbs ("weeds") with the public from time to time in Stelle. Each workshop participant is presented with a booklet delineating the health values ascribed to each of 20 very common weeds in our environment. After a brief discussion of the booklet, Carroll leads the participants in a walkabout of Stelle and the adjacent CSC property, while identifying the plants discovered and discussing their health values. Wear your walking shoes! Carroll comments, "There is an amazing amount of information to be gained in this simple and pleasant process. The 20 weeds/herbs that are featured are common all over the eastern United States, permitting participants to take the book traveling as a portable medicine chest." Cost for this 2 hr workshop is $35. You are invited to begin the afternoon workshop by sharing a healthy organic meal at the Stelle Community Center at an additional cost of $10. Lunch begins at noon and the workshop begins at 1 P.M., following the optional Open House tour.
Bio: Carroll English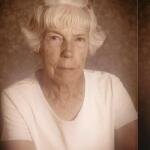 Carroll has been studying nutrition and herbology since before her arrival in Stelle 37 years ago. Her commitment to natural eating and herbal medicince are famous in the vicinity. Carroll's received her formal education in Florida, where she was born. She studied Education and Spanish at the undergraduate level and has a Masters in Theology. Her formal teaching career was limited to the Stelle School, when it existed. However, she still teaches Spanish to small groups, at the College level, or to individuals. Carroll has also just published a book describing her experiences in Cuba, where she was doing ministry prior to and following the Castro Revolution.