Please Note: Our Available Internships for 2015 are now Closed.
Please check back for 2016 postings.
A Cooperative Program Between Midwest Permaculture and Center for Sustainable Community (501-c3)
What Will you Learn and Do?
View the Monthly Schedule of Internship Activities


Please Note: We process student applications upon receipt, accepting qualified applicants in the order they apply.
About our Program
Work along side of us as we develop the systems and resources for resilient and abundant living. On the heels of a Permaculture Design Course, you will join us and become part of the community in day-to-day work and in bringing to life our permaculture design on the 8.7-acre property of Center for Sustainable Community (CSC).
Purpose
The purpose of this program is to combine formal training (via a Permaculture Design Course) with practical experience in implementing a permaculture design, growing food, and homesteading with the community. Interns will leave with an internationally-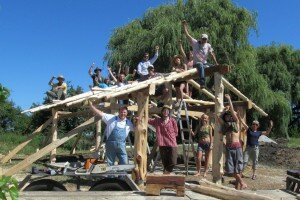 recognized PDC Certificate and have the added option of spending time working on their own projects (both land-based and social projects) with coaching from our lead teachers.
Participants will get many hands-on experiences, share in the bounty they help to create, and emerge with a much higher level of competency and confidence in their life skills and understanding of the applicability of permaculture in their lives and communities.
Specifics
This program is based in rural Stelle, IL. Structurally, Stelle is a typical suburban town; socially, it attracts those with an enthusiasm for sustainable design, solar energy, lifelong learning, and co-operative enterprises–basically, all things permaculture. Stelle was designed in the 1970's as an intentional community; in 1982, Stelle restructured as an open, conventional homeowner's association as it is today. Center for Sustainable Community and Midwest Permaculture are both based in Stelle and have partnered to create this internship program.
The first week of the program will be a Permaculture Design Course taught through Midwest Permaculture. The PDC courses typically include 10-25 students and cover the foundations of permaculture design in a lively and interactive way. For more information about the Permaculture Design Courses, click here. Those already holding a PDC certificate are eligible to take the course at a reduced rate but all interns participate in the PDC course. It is an important part of integrating into the work/study program and to the community.

" I liked learning how to live off the land in a sustainable manner, the basics of gardening and animal husbandry are unique and vital skills that modern homesteaders and permaculturists must acquire in order to succeed in their endeavors. Permaculture is more than a design system, it is a lifestyle. When we apply the same principals of creating harmonious, nurturing environments, we as a culture of care, can secure a legacy of abundance for future generations."
– Conner Summer 2013 Intern
Following the PDC course, our student interns move into planning and preparation with our intern coordinator for the hands-on activities ahead. We do our best to focus students involvement in projects based on their interests and talents. This is not a static internship where everyone does the same thing all of the time.
During your work/study internship, your hours will be task-based and irregular depending on what needs to be done on all of our projects that week; we ensure weekly days off for everyone's health, safety and good spirits.
Lodging vs. Camping
For the spring, summer and fall internships camping is included in the price. Lodging is available for an additional $500 for the 5 weeks. This includes a private bedroom in either the intern house or in one of our friends homes.
Food
Food is locally or organically sources as much as possible and made from basic and/or fresh ingredients supplied to our student interns and staff. Vegetarian and vegan options are always available. Everyone helps plan/prepare/clean-up meals on a revolving basis. Not all meals are shared together during the internship but most are either at the intern house or at the community center. You'd have some freedom here.
Part of the Community
As part of the Stelle community, interns will be involved in our efforts to share resources and build resiliency. You will have an inside look at what is involved in running a non-profit organization with invitations to all events, gatherings, and possibly some conferences. We also look forward to learning from what you have to contribute!
And you don't have to be a twenty something!
We have had students from age 14 to 76 take our PDC courses. This internship training is for everyone. Maybe you have just retired and want to immerse yourself in this kind of learning or environment. Maybe you have earned yourself a very satisfying educational vacation. Maybe you are between careers and want to see if your can find clarity regarding your life's work. All are good examples of reasons to participate in this internship.
"I have been most impressed with the care given in developing my knowledge base of those areas I have a particular interest in."
MK- Intern 2013
Hands-on Educational Activities an Intern Can Expect
First Week is a Full Permaculture Design Certificate (PDC) Course
Gardening using Permaculture, Square-foot Gardening and John Jeavons techniques
Assisting with daily livestock chores (chickens, turkeys and pigs)
Working on one or more of the 9 Earth-Shelters to be built

Dig and construct rubble trenches
Build cob walls with windows and doors
Design and construct roofing and water catchment systems
Help design/build thermal mass rocket stoves
Possibly sleep a few nights in one of the earth shelters to see what it is like

Participate in creating community meals
Work one-on-one with Bill and Becky Wilson on your own permaculture design
Help out with other educational workshops, conferences or open houses as we host or attend
What Else is Included in Each Internship?
The Foundations of Permaculture Webinar Series (Part of the PDC)
Emphasis in education with hands-on experiences
Most meals/food and camping space with warm bathroom and hot shower close by
One-on-one design assistance on your own permaculture project
The experience of living and participating in the vibrant community of Stelle (Pop. 110)
What are the Dates and Features Again?

The Fees Charged for these Internship
The emphasis of our internships are educational and include hands-on experience. Our students are not our laborers. What we charge for these educational opportunities is based on what it costs us for your stay here, including all food, camping or lodging, water, electricity. internet, staff support, and maintenance supplies.
Registration and/or Questions
Feel free to email or call with any questions. ( or phone 815-256-2204).
To Apply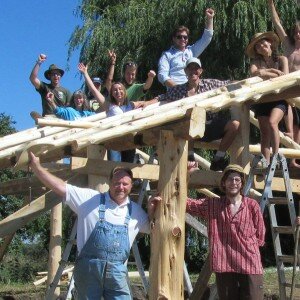 Download and fill out this application and return by email or US mail. There is no charge for submitting an application.
There is no charge for submitting an application. Each application will be reviewed upon receipt; telephone interviews may be arranged soon afterwards. Qualified applicants will be selected on a first-come, first-served basis, so interested individuals are encouraged to apply as early as possible. If accepted, a $445, non-refundable deposit is due to hold one's place. $195 pays for the Foundations of Permaculture Webinars series and allows you to get started on your pretraining studies, the other $250 holds your spot in the program. Full payment is due on or before your arrive to Stelle.
Already Have Earned your PDC Certificate?
We ask our interns take our Midwest Permaculture PDC course as a refresher. Every PDC course is different and taking a second one tends to deepens one greater understanding. It is also a great time for our interns to really get to know each other and our instructors which creates a solid foundation for a smooth intern program. Therefore, if you already hold a PDC Certificate from anywhere in the world we will honor that with a 33% discount in the price of our PDC Course. If you are a graduate of a Midwest Permaculture PDC course you receive the customary 50% off.
Is this a Good Fit for Me?

"Be the change you wish to see in the world." –Ghandi
If you are looking for a way to gain practical knowledge in transitioning to a sustainable lifestyle, this is likely right for you. If you envision a time when humanity will be able to meet its needs without harming the planet and you want to help discover and design the path there, this internship will be of great benefit. If you want to change personal and cultural paradigms in small but steady steps, this is your place. You will likely gain immensely from this training and we welcome you!